We try to limit our meat consumption and, like many of you, are trying to eat healthy. Recently, I picked up a package of Gardein Meatless Ground. We had eaten at a friend's house on Monday so we moved Meatless Monday to Meatless Tuesday.
It is in the freezer section of the grocery store and needs to be kept frozen until just the time you cook it. Last night I made some vegetarian chili from a terrific recipe and used the soy ground meat in the recipe. Delicious. The texture is correct, taste is fine. I was quite happy with how it turned out. I've used other products in the past, but I do like the Gardein version quite a bit. I will try some of their other products and report back on how those work as well. Meanwhile, do think about trying the Meatless Ground in vegetarian chili. Here's a link to the recipe I used. https://www.allrecipes.com/recipe/72508/the-best-vegetarian-chili-in-the-world/
The photo is of the Best Vegetarian Chili in the World from Jaxon's Mom on Allrecipes.com where the recipe is posted: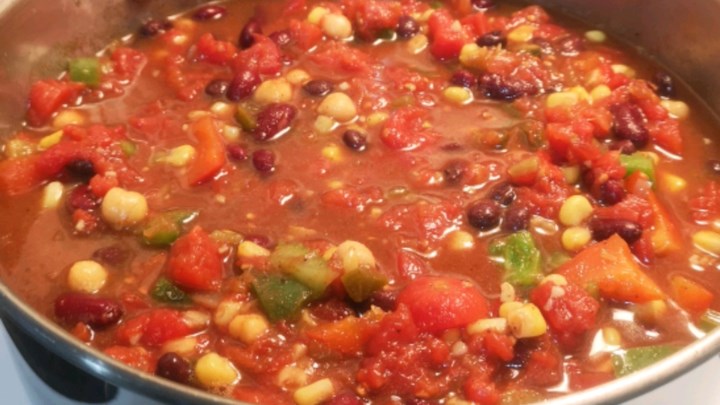 I made a few changes to the recipe. I prefer to not use canned beans, although I know they are fine. But I keep a variety of dried beans, peas, and lentils on hand and it is easier for me to use those. So, the night before I placed about 3/4 – 1 cup each of kidney beans, chickpeas, and black beans in a large bowl and covered with water. The next morning I put all in my Instant-Pot with a tsp. of salt and cooked for 20 minutes. You can do the whole recipe in a large Instant Pot. Mine isn't quite large enough because the chili recipe makes a large batch, but I did use it to cook the beans and that saved considerable time. If you have a larger model you could do the whole thing in one pot.
The other changes I made to the recipe were that I used one, not two packages of the soy ground meat. I used two 28 oz. cans of tomatoes, not three and I added 1 small can of tomato paste. I think everything else I followed the recipe linked to above. It was very good.
We were very pleased with the whole combination. The Meatless Ground was actually easier to cook with than regular ground meat, at least in this recipe. When I do use ground meat, I use very lean grassfed, local, sustainably raised meat which has very little fat (a good thing) but tricky to saute with at times. The Meatless Ground was easy because I could just dump it into the mix and heat it thoroughly. I look forward to sharing some more soy ground meat recipes with you in the future.